Recording studio rental
Our studio has acoustically conditioned live rooms for recording, mixing and mastering all kinds of projects.
Our studio
Recording and mixing studio in Barcelona
"Recording rooms with natural light and air conditioning"
The studio is located in Barcelona in a quiet area a few minutes from the Airport, and just 10 minutes walk from Sants Station and only 5 minutes from the famous "Camp Nou".
It has three rooms with natural light and air conditioning, which offer a warm, welcoming and acoustically controlled environment, so that you can develop your creativity without feeling hearing fatigue after a few hours of work, or eye fatigue due to the lack of sunlight.
Our experience and professional quality of our team have already made some of the best national and international record companies trust us.
Recording live room
The 15 m2 recording room with variable acoustics allows the recording of groups of up to 4-5 people, such as brass sections, string quartets, or groups with drums, bass, guitars and keyboards.
Although where it shines especially is in the recording of voices, both singers and voice overs. Its reverb time is ideal for recording voices of all types, from Rock to Opera, where singers cannot use headphones, and where drier rooms or booths do not allow them to sing the highest notes with ease.
Control room
Our 18 m2 control room is adapted for mixing and mastering, although it is also common to use it for recording instruments such as guitars or bass, while the amps are left in the room, or for vocals when the rest of the band is who occupies it.
It is equipped with a careful selection of vintage outboards, including some of the industry's iconic preamps, compressors, and eqs, with the proven quality of having been used on thousands of records for over 60 years by the greatest sound and mastering engineers around the world.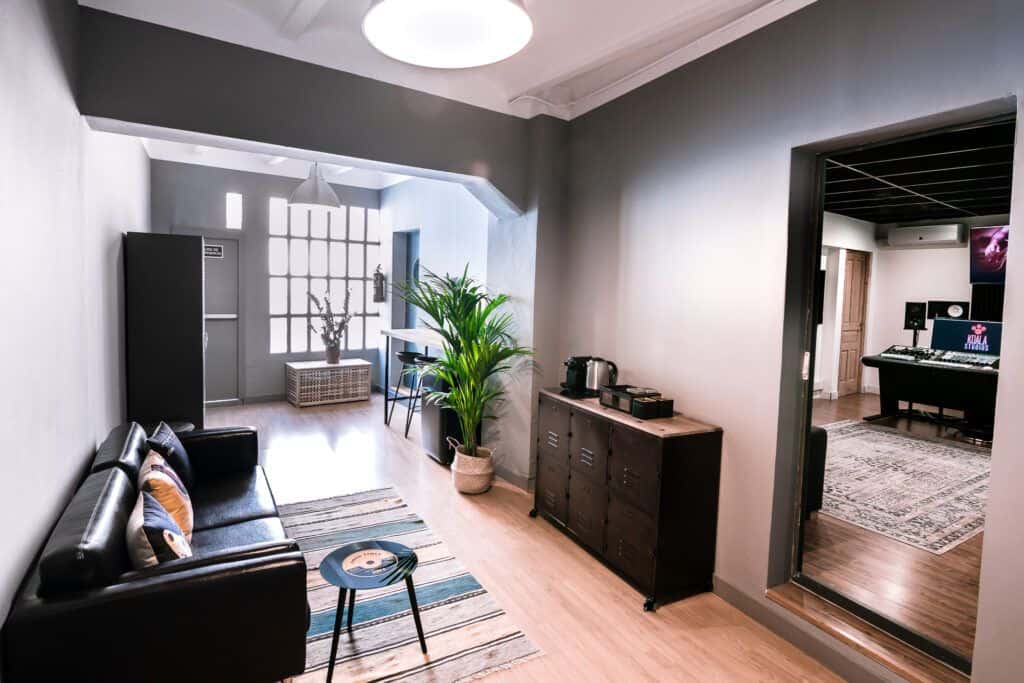 Relax zone
And to rest and free your mind between sessions, our 28 m2 relaxation area, isolated from the recording room and the control room, has everything you need to rest, regain strength and be able to return to work with renewed energy.
AVAILABLE: TV, free Wi-Fi, sofa, bartop to eat with several chairs, and kitchen (microwave, kettle, coffee maker, etc…).
Any extra needs, please let us know and we will do our best to accommodate them.
Recording studio rental rates
Recording studio rental (€/hour), from

70€ 60€

1ª hour SETUP 90€. Sessions of 8 hours / day. Includes Engineer. Recording, editing, composing, voice tuning, etc…

Studio rental – Pack 4h.

270€ 229€

15% discount. Included 1st hour SETUP + Engineer.

Studio rental – Pack 8h

510€ 399€

Discount of 21.6%. Included 1st hour SETUP + Engineer.

Recording + Mixing + Mastering Pack (8h)

690€ 500€

(Offer for bands and groups). Included 1st hour SETUP + Engineer. Includes 6h of recording + 2h of quick mixing and mastering.